Descriere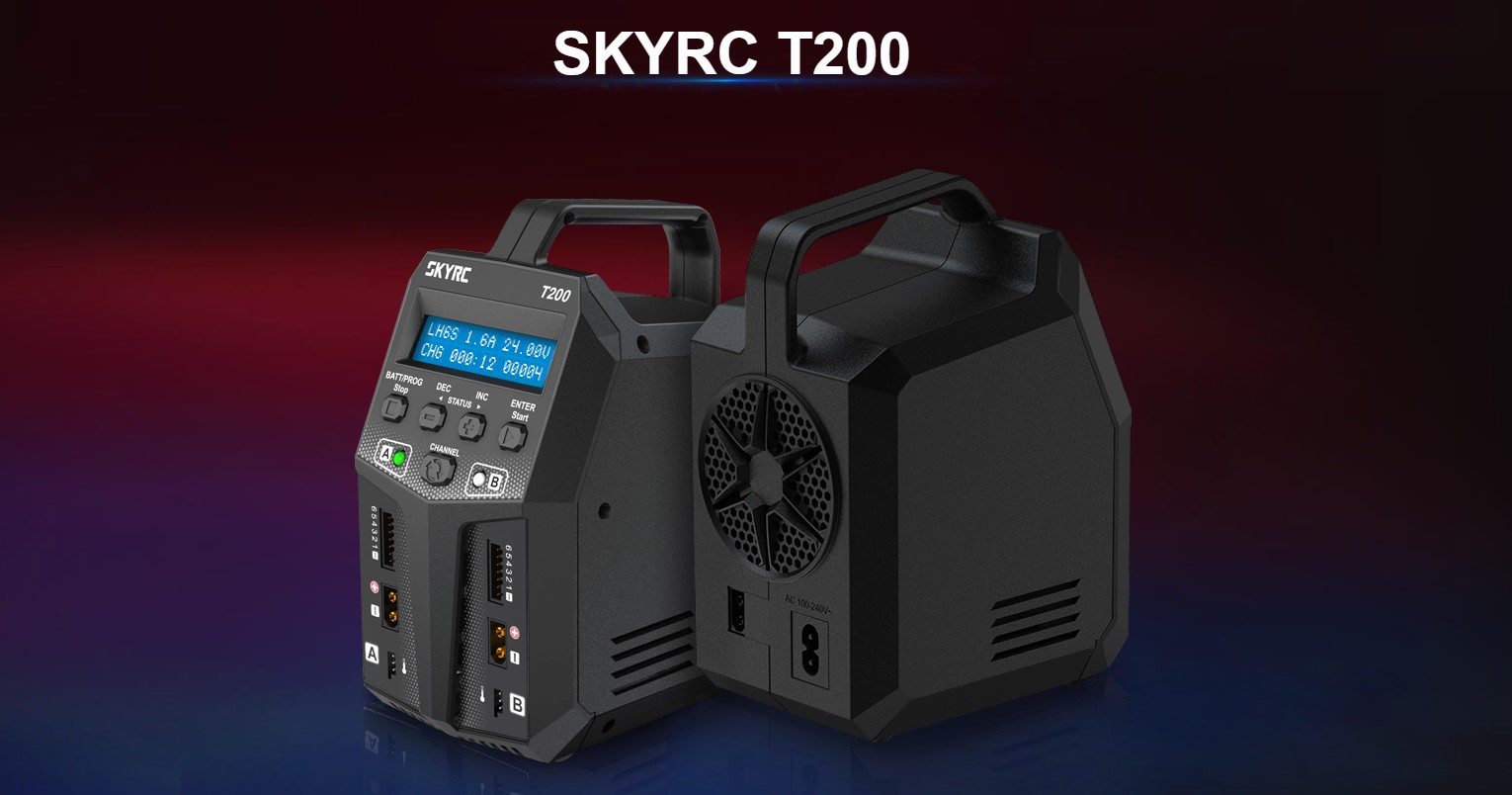 Product description
---
SkyRC T200 charger has the most compact design, taking up minimal space, only as much as a pair of batteries. The charger provides 100 watts of integrated power through each charging circuit. Behind the tastefully designed casing there is enough power to charge two batteries with up to 12 amps per channel at the same time, so you can instantly pump life into a wide range of batteries, from receiver packs to 6S lithium-polymer 6S or NiMH and 15S NiCD batteries. What's more, the charger provides the full programmability you expect from a modern high-end charger.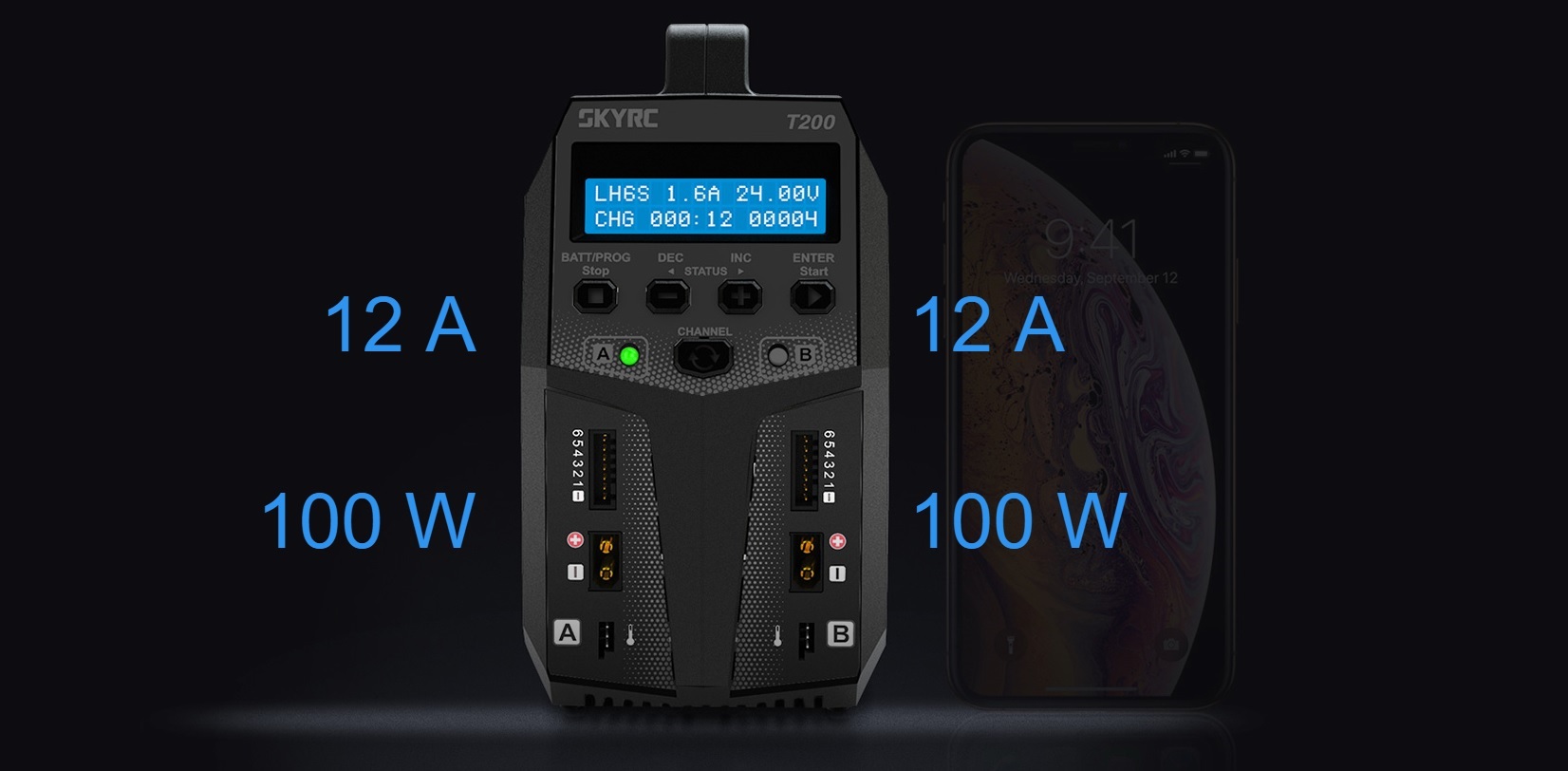 ---
Multiply the effectiveness

Both charging channels can be programmed and operated individually. The T200 allows you to intelligently, automatically and simultaneously charge two batteries to their maximum capacity. What's more, the cells to be charged do not have to have the same configuration or be of the same type. Feel complete freedom in choosing the packages to be charged.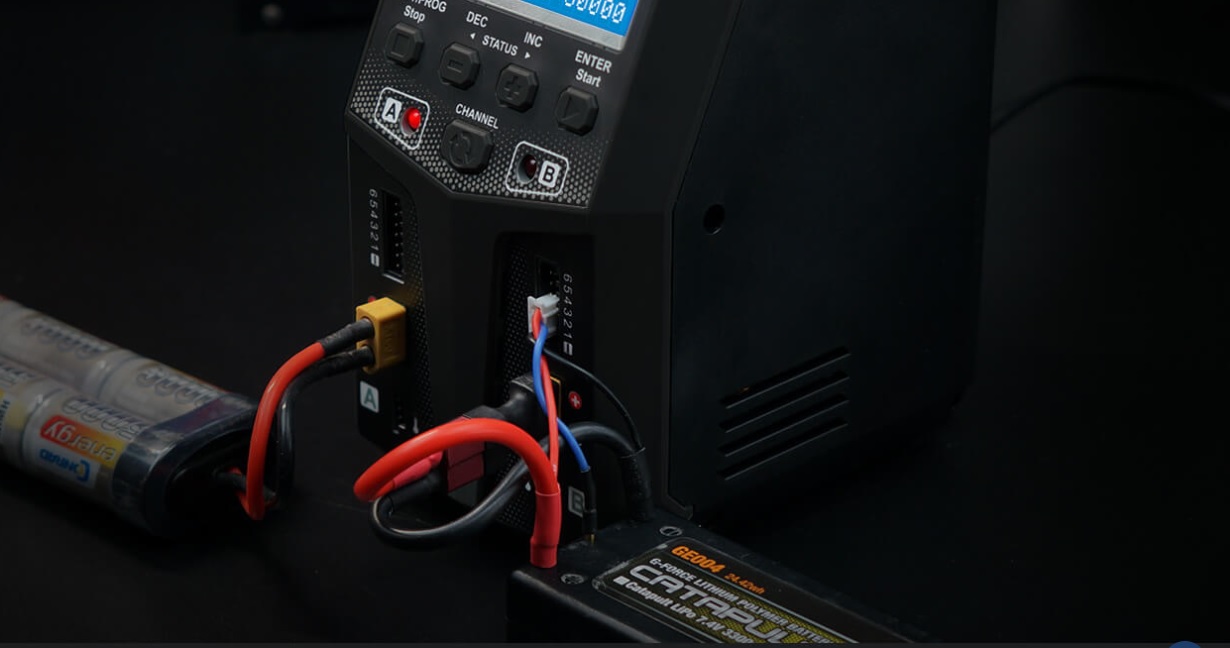 ---
Compatibility and universal plug XT60

The charger has a charging algorithm that allows you to work with the most common types of batteries – LiPo, LiIon, LiHV, LiFe, NiMH, NiCD and Pb. The XT60 interface prevents reverse polarity and provides a very stable connection.
SkyRC T200 has a so-called AUTO function, which automatically sets the current during charging and discharging. Particularly in the case of lithium batteries, the function helps prevent overcharging, which can lead to an explosion caused by the user. The function automatically turns off the circuit and informs the user when an irregularity is detected. All programs in the T200 are controlled by a two-way signal to ensure maximum safety and minimize problems. All settings can be configured by the user.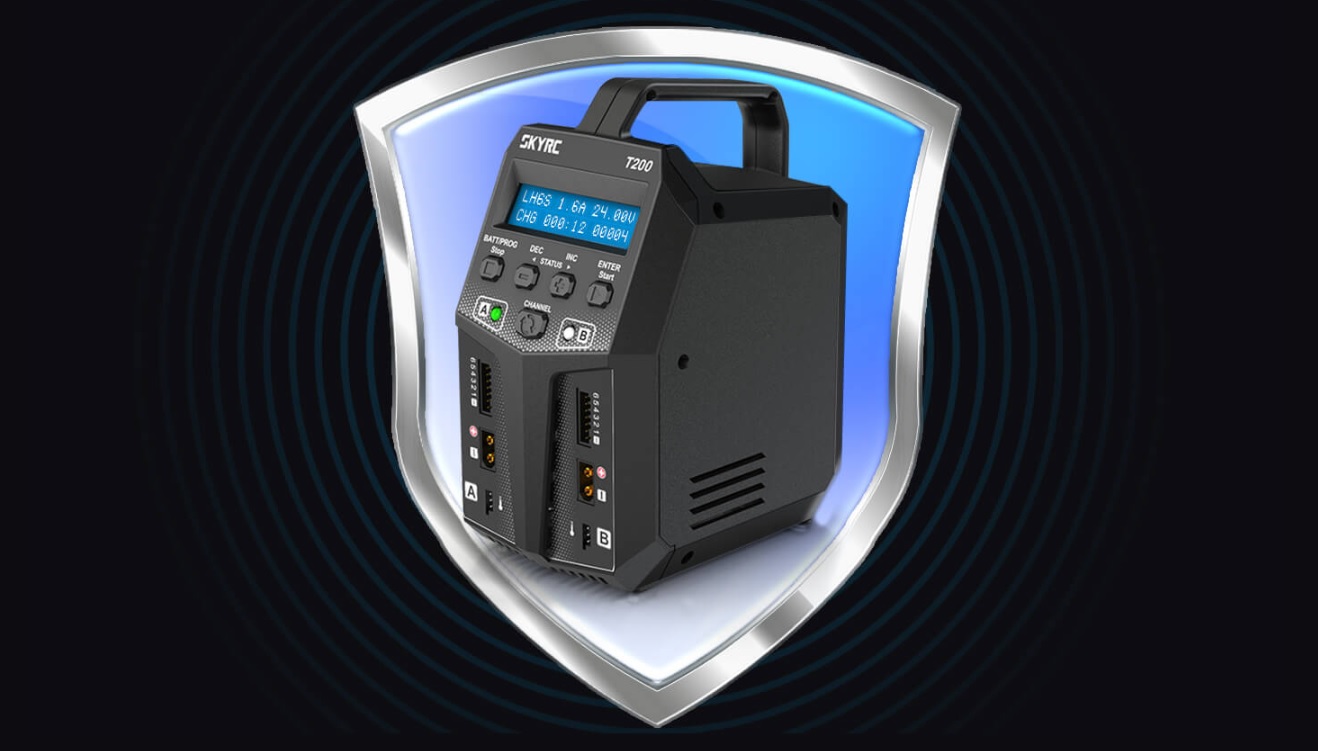 The five-button panel and brightly backlit LCD screen make it easy to operate even for inexperienced users. The charging programs work in a similar way to other SkyRC chargers, but even if this is your first contact with the programmable charger, you will easily move between parameters using the up and down arrows to set the values and then clicking enter to confirm.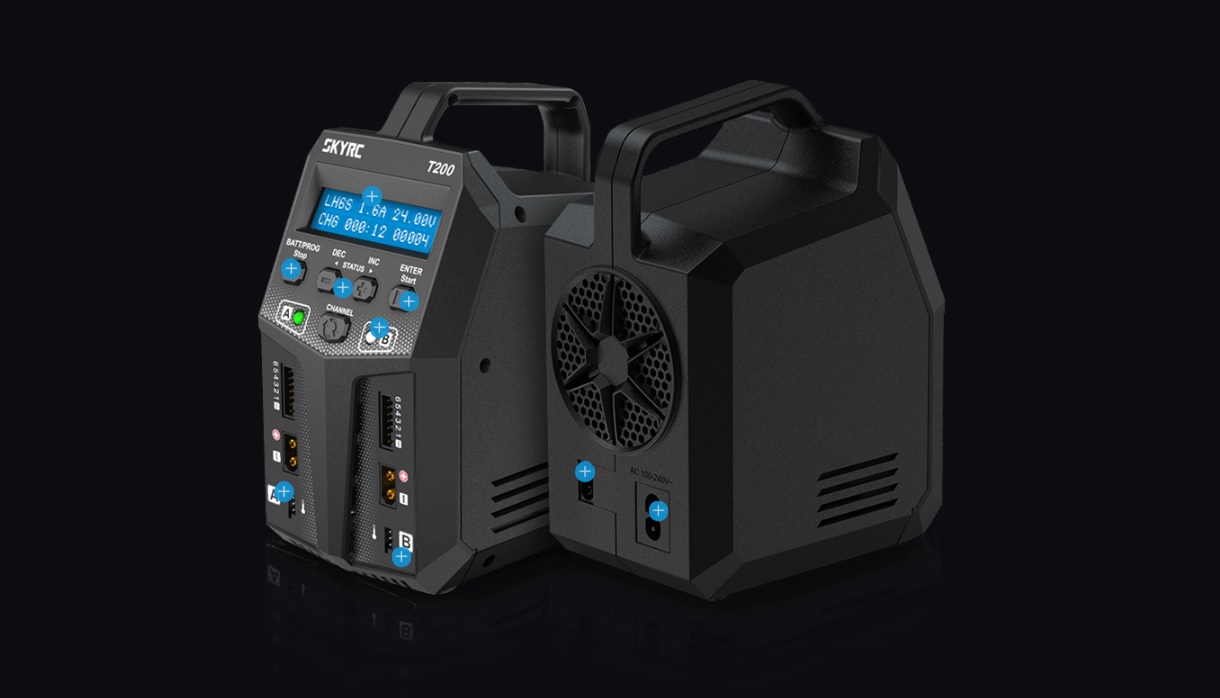 ---
Versatility with AGM and cold modes
AGM batteries are easy to maintain, very stable and lighter than other lead-acid batteries. Although they have the same structure, the difference in chemical components translates into large differences in performance. Do not charge AGM batteries with a normal charger in Pb mode. Cold mode allows you to charge the battery at low temperature.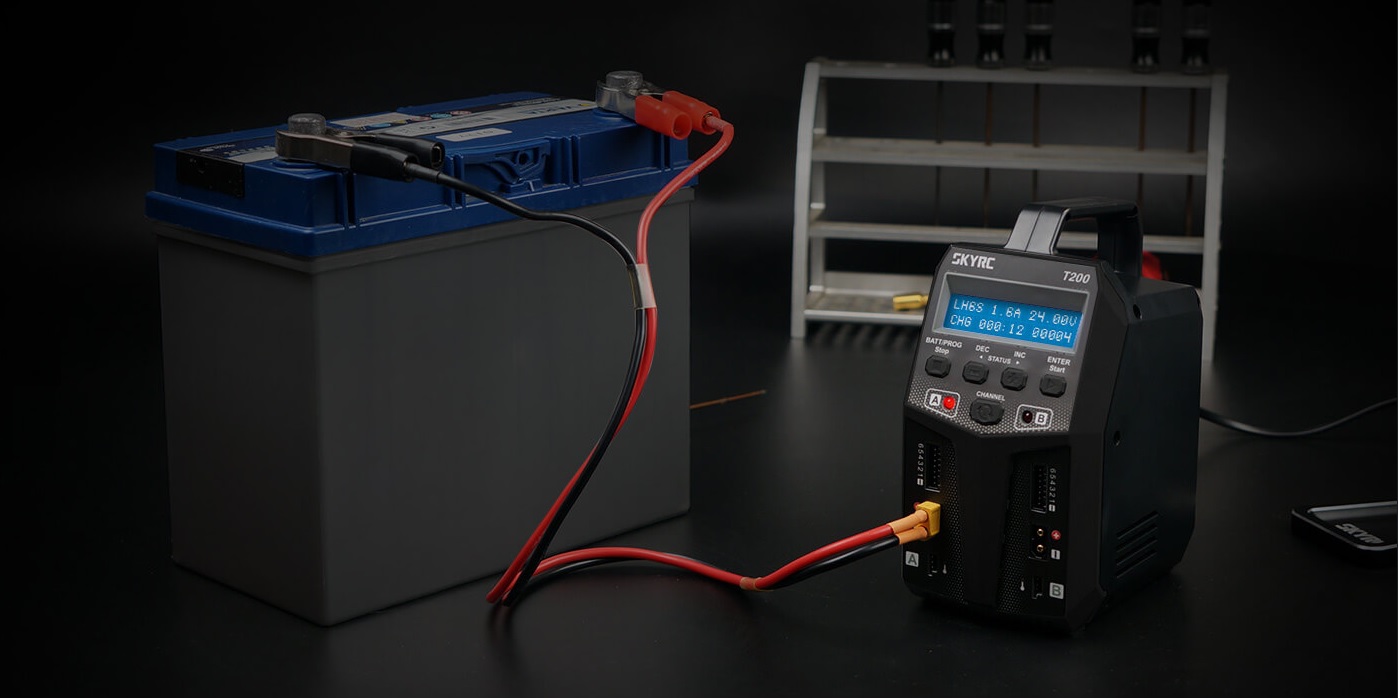 SkyRC T200 allows users to change the final voltage (for advanced users only).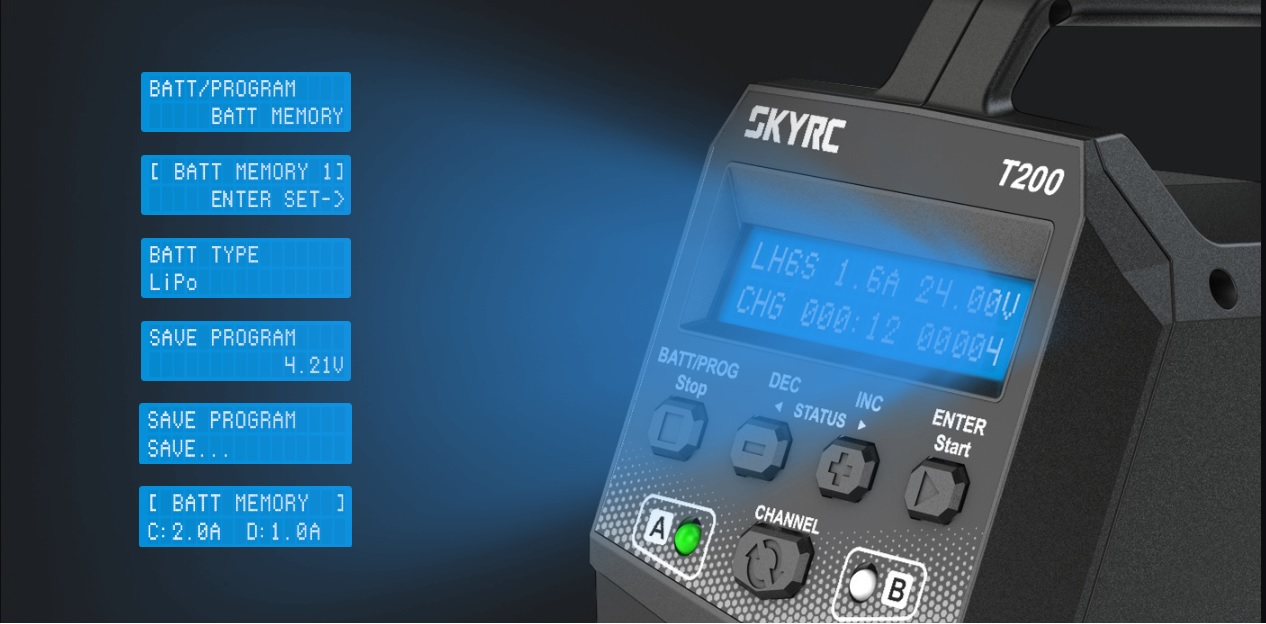 The charger is equipped with a special handle. Thanks to its compact design with a weight of less than 1 kg it is the most comfortable loader in transport..